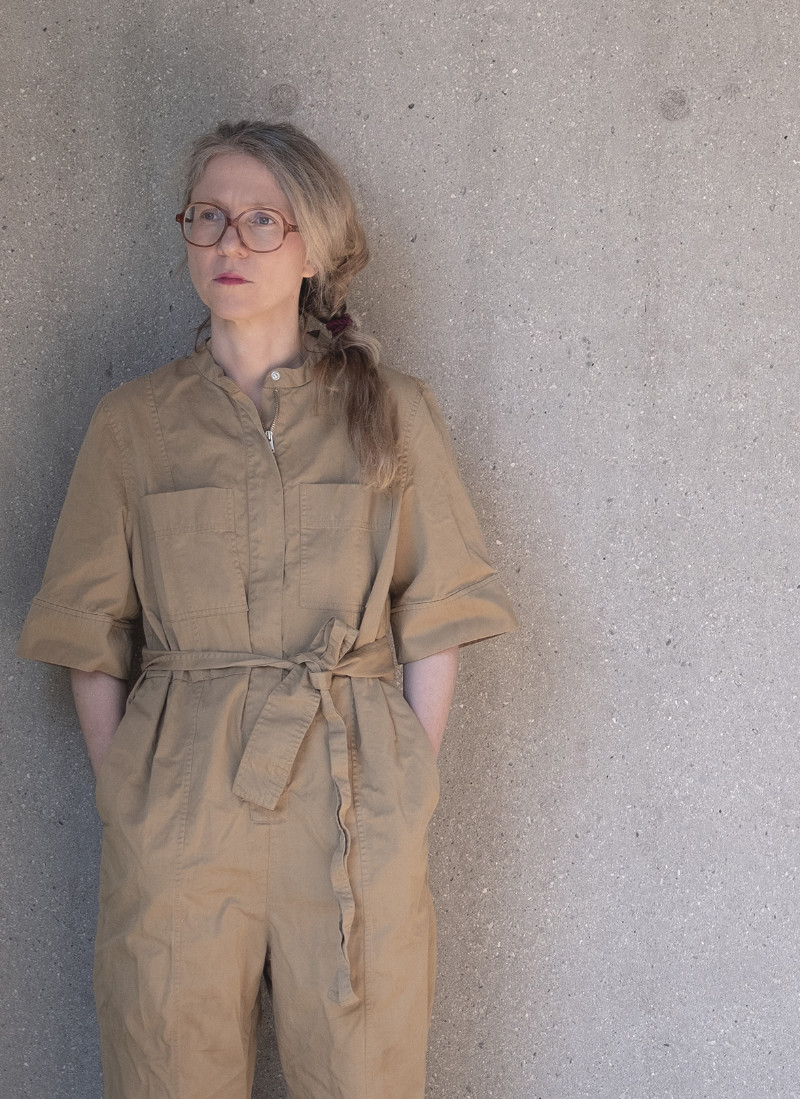 German:
Félicia Atkinson ist bildende Künstlerin, experimentelle Musikerin, Dichterin und Mitherausgeberin von Shelter Press. Geboren 1981 in Paris, ist sie Absolventin von Les Beaux Arts de Paris (2008, MFA mit Auszeichnung) und hat 2003-04 das experimentelle pädagogische Projekt BOCAL mit dem Choreographen Boris Charmatz verfolgt.
Ihre Arbeiten beschäftigen sich mit Themen wie Improvisation, Deep Listening, Cut Ups, Dauer, Stille und Lärm, musique concrete, poetische Räume, Wüsten, Wälder, Animismus, Abstraktion, Ambient und Sprache. Zurzeit ist sie Doktorandin in Musikwissenschaft an der Universität Rennes 2 und arbeitet an den Themen Instrumente und Programme, die von Künstlern und Komponisten durch einen utopischen Wunsch entwickelt wurden.
Sie führte ihre Musik bei Issue Project Room New york, Cafe Oto in London, GRM / 104 in Paris (Festival Presence Electronique), Fylklyggen in Stockholm (Festival Sound of Stokcholm), Palais de Tokyo Paris, Emily Harvey Foundation in New York, Fondation Cartier pour l'Art Contemporain Paris, Reed University Portland, Cal Arts Valencia, Human Ressources Los Angeles, Ambient Church in Brooklyn auf.
Sie stellte aus bei Bozar in Brüssel, Kunsthalle Charlotenborg in Kopenhagen, Komplot in Brüssel, Chert Gallery in Berlin, CAC La Galerie Noisy Le Sec, Overgaden in Kopenhagen, CAC La Criée Centre d'Art in Rennes, Last Restort Gallery in Kopenhagen, MUCA ROMA in Mexico City, City Limits in Oakland, Blindisde Gallery in Melbourne.
Sie wurde 2013 mit dem Langui-Preis für Malerei / Young Belgium Art Prize ausgezeichnet und erhielt Stipendien des Institut Français, der Villa Medicis Hors Les Murs und der FNAGP.
Sie absolvierte Künstlerresidenzen bei Rupert Vilnius, CAC La Galerie Noisy le Sec, Los Angeles Contemporary Archives, Bundanon Trust in Australien, RMIT in Melbourne, EMS Studio in Stockholm.
Sie veröffentlichte ein Dutzend Platten und Bücher, die meisten davon bei Shelter Press.
Ihre letzte LP, Hand in Hand, war die Nummer 14 der Jahrescharts im The Wire Magazine, während das vorhergehende Werk, A readymade Ceremony, eines der besten experimentellen Alben" von Pichfork und Spin Magazine war.
English:
Félicia Atkinson is a French musician and artiste born in 1981 in Paris. Her work deals with topics of deep listening, cut ups, silence, noise, and language and is a combination of improvisation and superimposed composition, as an abstract woven material, where the voice meets electronics, acoustic instruments, and field recordings.
Her latests albums are Everything Evaporate (2020), The Flower and the Vessel (2019), Hand in Hand (2017) and A Readymade Ceremony (2015), as well as working with Jefre Cantu-Ledesma on Limpid As The Solitudes (2018) and Comme Un Seul Narcisse (2016), all released on Shelter Press.
She played recently at Berlin Atonal, Barbican in London, Semi Breve festival in Braga, Unsound Karkow, Le Guess Who Utrecht, ISSUE Project Room New York, Festival Presences Electroniques Paris and Zebulon Los Angeles.